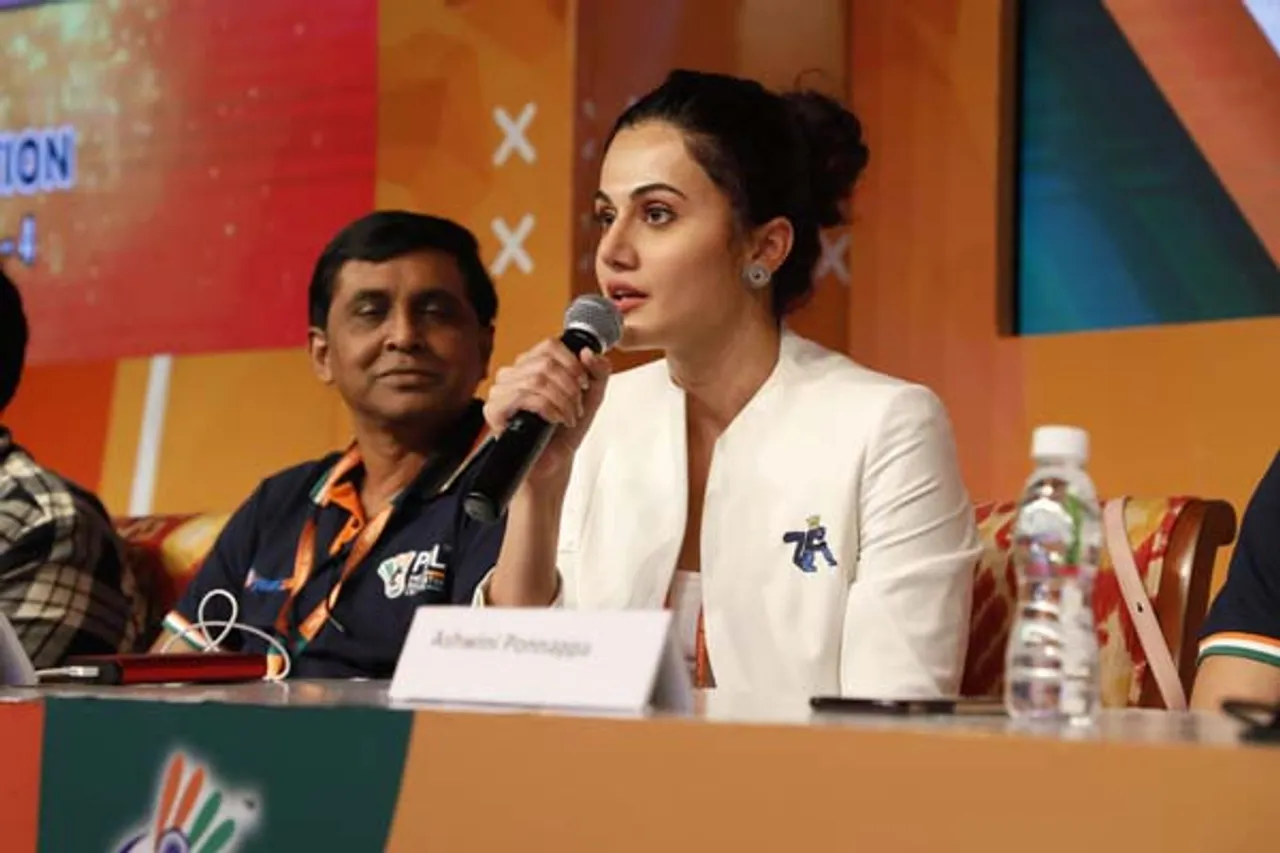 Homecoming for PV Sindhu; Saina Nehwal to don the North East outfit for 4th season of Vodafone Premier Badminton League
* Pune 7 Aces goes all out to rope in world champion Carolina Marin
* Highest paid non-Icon Player Tommy Sugiarto; highest-paid Indian non-Icon Player Satwiksairaj Rankireddy
New Delhi October 8: World Champion Carolina Marin and PV Sindhu were expectedly the most sought after Icon Players as the two 2018 world championship finalists were picked by Pune 7 Aces and defending champions Hyderabad Hunters respectively in the Players' Auction for the fourth edition of the Vodafone Premier Badminton League (PBL) here on Monday.
The fourth season of PBL, organised by Sportzlive under the aegis of Badminton Association of India, will kick off in Mumbai from December 22, 2018.
With no retention or Right to Match (RTM) card at disposal, the Players' Auction was always going to be a keen contest for teams to get the combination right while looking for that one Icon Player who can inspire them to bigger glory.
Indonesia's Tommy Sugiarto became the highest-paid non-Icon Player with the Dalmia Cement Group owned Delhi Dashers splurging INR 70 lakh for his services. The Delhi outfit won a tense battle with two other teams to acquire the World No 11, paying more than double his base price (INR 40 lakh above his base price.)
Among the Indians, rising doubles star Satwiksairaj Rankireddy was the top draw and Padmanabh Sports Pvt Ltd owned Ahmedabad Smash Masters outbid the Hyderabad Hunters to secure the youngster for INR 52 lakh, a massive jump from his base price of INR 15 lakh.
Given the strong pool of players in the auction, it was interesting to see the strategies the teams implemented to build their squad as three of these players could be retained for the next two seasons as well.
Marin and Sindhu were the obvious choices for almost all the teams. At least four teams raised the prize purse to INR 80 lakh, the maximum limit a team can bid for a player before the players got assigned to the teams by a draw of lots.
The Spaniard, who played a major role in helping Hyderabad Hunters win the title last year, would now shift base to Pune. The new outfit were clearly gunning for the three-time world champion and was understandably delighted when the announcer pulled out a chit of their name in a draw of lot.
"I am very excited to be part of the Pune team. Hyderabad has been like a second home for me. But now I am excited to be part the Pune team and explore this part of India," said Marin after learning about the bid.
Speaking post the player auctions an upbeat Taapsee Pannu, owner of Pune 7 Aces said, "We had a set game-plan and I am really ecstatic to be able to rope in some of the big names in the auction pool today. It has been a perfect implementation of the homework we had done. With a champion in Marin, experienced Mathias Boe in the doubles category and young Lakshya Sen, am really optimistic how balanced the team has shaped up. Can't wait for the season to start!"
While the Hunters lost their star performer from last year, they would be delighted to welcome home Rio Olympics silver medallist Sindhu. The 23-year-old, who was playing for Chennai Smashers for the last two seasons, will be playing for the home city for the first time and couldn't hide her excitement.
Two times CWG gold winner and India's badminton queen Saina Nehwal will be seen plying her trade for the North-Eastern Warriors in the upcoming edition.
"It's a great opportunity for me to get associated with the North Eastern Warriors. The fans over here are extremely passionate and I will try and give my best for them. I always had a special admiration for the north-east and with this alliance I wish to promote badminton in this region, so that we have more people inspired to take up the sport," said the 2012 Olympic Medallist
Among the other Icon Players, former world champion Viktor Axelsen will represent Ahmedabad Smash Masters, Kidambi Srikanth would play for Bengaluru Raptors, HS Prannoy will turn up for Delhi Dashers.
Chennai Smashers, who will have Korean Sung ji Hyun as their icon player, managed to retain the services of English mixed doubles combination of Chris and Gabby Adcock, paying them INR 54 lakh and INR 36 lakh respectively.
Korea's mixed doubles specialist Eom Hye Won also got a Rs 30 lakh jump from her base price of Rs 7 lakh as the Hyderabad Hunters secured her to build a strong doubles unit.
But it was Delhi Dashers who broke the bank to get Sugiarto in the squad after they had already paid Rs 80 lakh for Prannoy. However, their strategy clearly was to invest in men's singles and they made the most of it.
"We are thrilled to announce our team Delhi Dashers and the choicest players for this season of Premier Badminton League 2018. Led by Indian icon H S Prannoy and Indonesian champion Tommy Sugiarto, we are confident that the team will perform exceptionally well and emerge victorious this season. We have the right mix of power and punch when it comes to our new players in this edition. It is the vision of the company to make sports a way of life for everyone in the country and Badminton is just the right sport to achieve this. We are privileged and extremely excited for the league to begin," said Mahendra Singhi, Group CEO, Dalmia Cement (Bharat) Ltd, the company which owns the team.
Two teams -- Awadhe Warriors and Mumbai Rockets -- exhausted their entire purse of INR 2.6 crore while Pune 7 Aces despite putting up a challenging line up managed to save INR14 lakhs and North Eastern Warriors despite building a formidable squad around Nehwal still saved INR 8 lakhs.
Squad and Price in Lakh (INR)
Hyderabad Hunters: Men's Singles: Lee Hyun Il (60), Rahul Yadav Chittaboina (3), Mark Caljouw (7), Women's Singles: PV Sindhu (80), Sai Uttejitha Rao (1), Men's Doubles: Kim Sa Rang (45), Arun George (1), Bodin Issara (21), Mixed Doubles: Eom Hey Won (37), Meghana Jakkampudi (3)
Mumbai Rockets: Men's Singles: Sameer Verma (42), Andres Antonsen (55), Pratul Joshi (1), Women's Singles: Shriyanshi Pardeshi (1), Anura Prabhudesai (1), Men's Doubles: Manu Attri 918), Lee Yong Dae (80), Kim Gi Jung (45), Mixed Doubles: Pia Zebadiah (15), Kuhoo Garg (2)
North Eastern Warriors: MS: Tanongsak Saensomboonsuk (20), Tian Houwei (32), AS Siril Verma (3), WS: Saina Nehwal (80), Rituparna Das (6), MD: Yoo Yeon Seong (49), Liao Min Chun (20), Dhruv Kapila (1), XD: Kim Ha Na (40), Kukkapalli Maneesha (1)
Pune 7 Aces: MS: Brice Leverdoez (20), Lakshya Sen (11), Sony Dwi Kuncoro (10), Ajay Jayaram (10), WS: Carolina Marin (80), Line Kjaersfeldt (31), MD: Vladimir Ivanov (17), Mathias Boe (50), Chirag Shetty (14), XD: Prajakta Sawant (3)
Chennai Smashers: MS: P Kashyap (5), Chong Wei Feng (14), Rajiv Ouseph (24), WS: Sung Ji Hyun (80), Saili Rane (1), MD: Or Chin Chung (15), Chris Adcock (54), B Sumeeth Reddy (10), XD: Gabrielle Adcock (36), Rutaparna Panda (2)
Ahmedabad Smash Masters: MS: Sourabh Verma (16), Viktor Axelsen (80), Daren Liew (33), WS: Kirsty Gilmour (26), Vaishnavi Bhale (1), MD: Lee Chun Hei Reginald (18), Satwiksairaj Rankireddy (52), K Nandagopal (1), XD: Sikki Reddy (29), Anoushka Parikh (3)
Awadhe Warriors: MS: Guru Sai Dutt (7), Son Wan Ho (70), Lee Dong Keun (36), WS: Rasika Raje (2), Beiwen Zhang (39), MD: Lee Yang (31), MR Arjun (5), Mathias Christiansen (37), XD: Ashwini Ponnappa (32), Sanyogita Ghorpade (1)
Bengaluru Raptors: MS: K Srikanth (80), B Sai Praneeth (32), Mithun Manjunath (2), Nygun Tein Minh (6), WS: Vu Thi Trang (9), MD: Hendra Setiawan (42), Marcus Ellis (20), Mohammad Ahsan (42), XD: Lauren Smith (20), Sanjana Santosh (2)
Delhi Dashers: MS: HS Prannoy (80), Chirag Sen (1), Tommy Sugiarto (70), WS: Evgeniya Kosetskaya (5), MD: Chai Biao (42), Maneepong Jongjit (23), Wang Sijie (15), Vighnesh Devlekar (1), XD: Lee Chia Hsin (20), V Harika (1)
PBL Facts:
Teams: 9
Cities: Delhi, Mumbai, Bengaluru, Lucknow, Hyderabad, Chennai, Ahmedabad, Guwahati & Pune
Venues: Mumbai, Pune, Hyderabad, Ahmedabad and Bengaluru
Dates: December 22nd 2018-January 13th 2019
Total Player in Auction: 145
Total Players Sold: 90
Highest Foreign Non-Icon Player Sold- Tommy Sugiarto
Highest Indian Player Non-Icon Sold: Satwiksairaj Rankireddy
Broadcast Partner: Star sports and Hotstar
Format: Best of 3 Games with 15 point a set
Total No of Ties: 30 No of matches in each Tie: 5
Prize money:6 cr- Winner- 3cr,Runner up-1.5cr,3rd and 4th Place finish-75 lakhs each
About Vodafone Premier Badminton League Season 4
The Vodafone Premier Badminton League Season 4, is the one of world's richest prize money tournament offering a total prize of INR 6 Cr. The league is conducted by SportzLive, licensee partners of PBL and is organised under the aegis of Badminton Association of India (BAI), led by President Dr.Himanta Biswa Sarma. The league kick starts from December 22nd 2018-January 13th 2019 and will see 9 teams; Delhi Dashers, Mumbai Rockets, Hyderabad Hunters, Awadhe Warriors, Chennai Smashers, Bengaluru Raptors, Ahmedabad Smash Masters, North Eastern Warriors and Pune Seven Aces battle out in 5 different cities of India, including Mumbai, Pune, Hyderabad, Ahmedabad and Bengaluru. Matches will be telecast live on Star Sports and live streaming made available on Hotstar.
About Badminton Association of India:
The Badminton Association of India (BAI) is the Governing Body for Badminton in India recognized by the Ministry of Sports, Govt. of India as National Sports Federation. BAI is registered under the Societies Act and recognised by the Indian Olympic Association (IOA) and internationally affiliated to Badminton Asia Confederation (BAC) and Badminton World Federation (BWF). BAI was formed in 1934 and Badminton Associations of all States / UTs are its Member Associations. BAI organizes National Championships for all categories of Badminton players apart from Zonal, Inter-State Championships and All India Ranking Tournaments in India. BAI also conducts various International Tournaments like the India Open World SuperSeries, Syed Modi India Grand Prix, India Junior International Championship along with the ambitious grassroots project, Shuttle Time which aims to reach 1.5 million school children in 21 States in 2018. BAI has also initiated the Coaching the Coaches programmes for creating a pool of Coaches to promote Badminton in India.
About Sportz& Live Entertainment Pvt. Ltd. (Sportzlive) is a Gurgaon based sports management and marketing company set up by experienced industry veterans! It's a venture capital-funded company that acquires sports IPRs. It already has an impressive portfolio that includes the Premier Badminton League, Indian Cue League (Snooker + Pool) and several other IPR properties. Sportzlive currently has about 90 days of Live-action content as part of its overall vision for the development of the sports ecosystem in the country. They have also set up North India's largest Badminton Academy at Greater Noida in association with Pullela Gopichand.
(Press release not edited)